6RAR – South Vietnam – 19th December 1969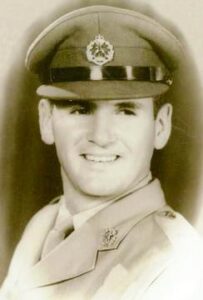 Peter Marks-Chapman entered the Officer Cadet School in January 1965 and graduated in December that year. He was allocated to Infantry.
On 18 December, the soldiers of 3 Platoon, A Company, under Lieutenant  Peter Marks-Chapman, were patrolling down a creek line when a small Viet Cong party detonated a claymore mine. One Australian was wounded and one Viet Cong was killed in a brief firefight. Five hours later, as the platoon returned through the same area, approximately six Viet Cong opened fire on them with RPGs and automatic weapons. Private Allen Brown and section commander Lance Corporal  Greg Stanford were killed almost instantly and Lieutenant Marks-Chapman was severely wounded.
Company interpreter, Corporal Vladislav 'Vic' Zhukov, dashed forward under heavy fire and carried Stanford and Marks-Chapman to safety. Zhukov was later mentioned in despatches for his bravery.
The Lieutenant Marks-Chapman was evacuated but later died of his wounds.
A tree planted by classmates of the Officer Cadet School in Portsea, commemorates of Lieutenant Peter Marks-Chapman who was killed in action in Vietnam on the 19th December 1969. The tree is located at 25 Veterans Drive, Garden of Reflection, National Vietnam War Museum, Newhaven, Victoria.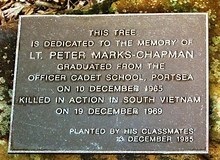 For further information see: