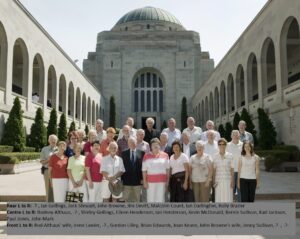 This page will provide you with the opportunity to share information about your class reunions with the wider OCS audience. You can send details of your planned reunion to webmaster@ocsportsea.org or just fill out the Contact Us form with details.
Once we have your information, we'll add it to the page.
Significant years
This is for milestone events – 50th, 60th, 70th anniversary. Other events will be displayed separately.
2022 sees milestone anniversaries for the following classes:
1952 – 70th Anniversary
1962 – 60th Anniversary
1972 – 50th Anniversary
The two classes from this year combine for major events. This year, they have planned a return to Portsea for November (8 to 10). Contacts are Denis Ausling or Rob Murray.
There will be a meet and greet on the Tuesday evening, tour of OCS on Wednesday morning, dinner Wednesday evening and farewell on Thursday.
If you wish to stay, there will be a Remembrance service at the OCS Statue on Friday at 11:00am followed by lunch at the Rye RSL.
More details are available here.
1982 – 40th Anniversary
Other Notifications
Some classes choose to meet on a regular basis to catch up. If you want to let us know what is happening contact us and we can add information here.
All Class Get Together December 2022
The OCS Alumni is organising a gathering for all classes on Tuesday 6 December 2022. The venue will be the Kitty Hawk Room of the Kedron Wavell Services Club at Chermside. It will run from 11.30am to ?????
If you are interested in attending, send a note to the webmaster – webmaster@ocsportsea.org
Once we have final details, a link for booking will be published here.
OCS Class December 1963 – Reunion
The Class will hold a Reunion in Canberra from 10-15 October 2022 operating from the Mercure Hotel.
A Meet & Greet will be held at the Hotel on the Monday evening, 10th October and will be followed by:
–         Tuesday, Last Post Ceremony at the Australian War Memorial from 16.00 – 17.30pm to honour Class-mate,  LT John 'Jack' Carruthers  MID;
–         Wednesday, Visits to the RMC Museum and to ADFA and a formal Class dinner in the ADFA Officers Mess;
–         Thursday, guided tour of the National Art Gallery and Happy Hour Farewell at the Hotel from 17.00pm.
Contact Officer – COL (Retd) David Dufall, 0406229514 or  davedufall1939@gmail.com
Class of December 1977 – 45th Anniversary
Please note the erstwhile graduates of Dec '77 will be holding a 45th Reunion on the Gold Coast; early planning for 9-11 December 2022.
Detailed planning is being undertaken by Ash Cooper and Steve Salmon and further advice follows.
Please indicate your willingness to attend by contacting the gifted Class Orderly Dave Compton on 0447 261 766, or david.compton1@bigpond.com
Cheers Bayonet Fighters