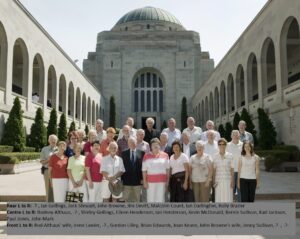 This page will provide you with the opportunity to share information about your class reunions with the wider OCS audience. You can send details of your planned reunion to webmaster@ocsportsea.org or just fill out the Contact Us form with details.
Once we have your information, we'll add it to the page.
Significant years
This is for milestone events – 50th, 60th, 70th anniversary. Other events will be displayed separately.
2023 sees milestone anniversaries for the following classes:
1953 – 70th Anniversary
1963 – 60th Anniversary
There will be a 60th Reunion for the OCS Class of June 63 held at Rye during the 14th and 15th of June 2023. Details are as follows:
Accommodation at Rye Hotel.  Phone Kera Zaltsberg on 0411732332.
Assemble at Rye RSL Wednesday 14th June 1630 to 1830 hrs for drinks, then informal dinner there.
Late am Thursday 15th June visit Portsea and lay wreath at statue. Wander around.
Dinner 15th June 1900 for 1930 hrs at Rye Hotel. Dress informal. Medals optional.
Disperse am Friday 16th June 2023.
Garry Swan has prepared a 20 minute address to be presented at the dinner Thursday night. It covers many humorous anecdotes on both Cadets and Staff during the course and deals with some of our careers and activities post OCS. He has called the address 'Memories of an Officer Cadet in the early sixties'. We would really enjoy seeing our classmates again as this may well be our final reunion.
1973 – 50th Anniversary
The two classes to graduate in 1973 are having a reunion in New Zealand combining with the New Zealand OCTU. The full details are in this document.
There is a reunion planned for the June 1973 class in October. See more details here.
1983 – 40th Anniversary
OCS Class of June 1983
Friday 9th June (King's Birthday weekend) is the date at Merricks North. More details to follow. Keep an eye on the OCS Facebook page.
Some more details:
Friday 9 June night at a classy and quiet venue in the CBD – not a noisy bar.
Saturday 10 June at 1300 hr – RV at the Quarantine Station for the nostalgia walk around – needs to be coordinated with the Victoria Parks people
Saturday 10 June approx 1600 hr – move to Portsea Hotel for drinks – free format
Saturday 10 June 1900 hr – move to dinner at Rye RSL – this is something that Ash has found out and is following up. Has the advantage of proximity to accommodation. Alternative would be Portsea hotel annex.
Sunday 11 June 0800 – brunch at Buckley's 174 Ocean Rd Sorrento. I have made an online booking for 12 as a placeholder.
Other Notifications
Some classes choose to meet on a regular basis to catch up. If you want to let us know what is happening contact us and we can add information here.
OCS All Classes and Staff Lunch
Following a highly successful event in December we are going to plan another event for July this year. This will move the event away from the busy December period and also June when many classes may be having events. Watch tis space for more details.
We want to include staff as well, so if you know a past staff member, make them aware of the event.
OCS Classes of 1972 – SEQLD
We gather on a quarterly basis for lunch at a well know waterhole in Brisbane. Contact the webmaster for more information.