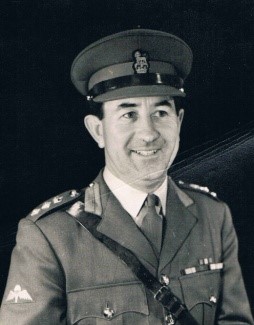 John Francis McDonagh was born in Melbourne on 6 November 1926. He was educated at the Wangaratta High School and the Melbourne Boys High School before entering the Royal Military College (RMC), Duntroon, in 1944. He won his Colours in Rugby and Tennis and graduated into the Corps of Royal Australian Engineers in 1946.
After service in Japan with the British Commonwealth Occupation Force (BCOF) he completed a Bachelor of Civil Engineering degree at the University of Melbourne. During this period he won his Blue for Rugby and was Senior Student at Trinity College.
This was followed by regimental appointments and a posting to the School of Military Engineering before he attended the Australian Staff College (Queenscliff). After a staff appointment in Singapore he returned to engineer appointments at the Royal Military College (Duntroon) and Perth (WA) before being attached to the Snowy Mountains Authority in 1963.
A senior appointment on the staff of the Engineer-in-Chief (Canberra) was interrupted by attendance at the Joint Services Staff College (England) in 1965.  In 1967 he raised, trained and then commanded the First Australian Civil Affairs Unit in South Vietnam for one year. On returning to Australia he was appointed to the staff of the Quartermaster General (now titled Chief of Logistics) before being appointed Commandant of the Officer Cadet School (Portsea) in 1969.
He quickly realised the Portsea officer cadet was more mature than those undergoing training at RMC. For example, some were married with wives living nearby, university graduates or serving soldiers in the Army. Therefore, the rigid discipline and other aspects of staff cadet life at RMC were not applicable to producing leadership traits of integrity, responsibility and self discipline necessary for officers in the Army. He was assisted by his wife by introducing wives of married officer cadets to the social responsibilities and other aspects of the life of an "Army Wife", e.g., mess functions, tennis parties, coffee mornings, art exhibitions, etc.
Another aspect needing attention was the expectation of a Portsea graduate attaining senior rank in the Army. On entry to OCS Portsea he welcomed them and told them by the year 2000 a Portsea graduate would be Chief of the General Staff (Chief of Army). This indeed occurred when Lt Gen Frank Hickling was appointed Chief of Army in 1998 and a cadet he selected in 1971 in Lt Gen Ken Gillespie became Chief of Army in 2008. Ken was succeeded by another OCS graduate in Lt Gen David Morrison in 2011. Also there have been nine Portsea graduates who have achieved the rank of Major General and the story probably has not been fully written at this time.
For three years he was an Honorary Aide-de-Camp to the Governor General of Australia. In 1972 he was Chief Engineer Eastern Command (NSW) and was selected to attend the 1973 Course of the National Defence College of India.
In 1974 he returned to Canberra and was promoted to Brigadier. In the next six years he held the following appointments:
Director of Material Development (Acting),
Engineer-in-Chief/Director of Accommodation and Works,
Director General of Accommodation and Works, and
Deputy Chief of Logistics.
On 30 April 1980 he resigned from the Army to take up the appointment of University Engineer at the University of NSW. In 1981 he was appointed Manager of Property Services.
The honorary appointment of Colonel Commandant, Royal Australian Engineers 2nd Military District was conferred on Brigadier McDonagh in 1982 and for the period 1987-88 he served as Representative Colonel Commandant.
For a period of twelve years he held senior managerial appointments in the Property and Works Department of the University of NSW with responsibility for the maintenance, rehabilitation and security of university facilities. Brigadier McDonagh retired from the University in November 1991 and became a consultant in the fields of facilities management, asbestos removal and logistics.
In February 1992 he accepted the task of raising a Sydney branch of the Society of Military Engineering and formed a small committee to assist him. The inaugural meeting of the Sydney Branch was held at the Institution of Engineers Auditorium, Milsons Point on 29 April 1992. Brigadier McDonagh was the first Sydney Chairman (1992-93) and since that time has served on the Committee. In April 1997 he was elected National Chairman of the Society.
Brigadier McDonagh retired from full time paid work in 1997 but continues his volunteer work with various organisations, and was a keen tennis player until recently and now attends a gym class regularly.