Colonel D.M. Butler, AO, DSO
Born: 03.09.1928 Guildford, WA
Died: 24 November 2020
RECORD OF SERVICE
Promotions:
15.12.1948 – Lt Aust Staff Corps
15.12.1952 – Capt Aust Staff Corps
15 .12.1958 – Maj Aust Staff Corps
17.05.1965 – T/Lt Col Aust Staff Corps
David Butler was educated at the Wesley College, Perth, Western Australia and the Royal Military College, Duntroon. A career officer in the Australian Army, after his Korean War Service, he progressively held senior appointments including Commander 6 RAR/NZ (ANZAC) in South Vietnam 1969-1970. Commander 1 Task Force 1977-1978. Australian Army Attaché, USA & Canada and Defence Attaché, United Nations 1979-1981. GOC Training Command 1982-1983 attaining the rank of Major General. He is married with 1 son and 2 daughters. His military service was recognised with the Silver Star (USA Korea – 1950), the Distinguished Service Order (DSO-Vietnam-1970) and was admitted to the Order of Australia (AO) (Military Division) in 1984. He is now in active retirement and lives at Portsea in Victoria.
RANK
REMARKS
Lt

T/Capt 25 Jan 1951 to 8 Jan 1952

Capt 15 Dec 1952

Interim Army 15 Dec 1948 to 14 Aug 1952:

Lt Aust Inf (Rfts) 15 Dec 1948
Lt 3 RAR 12 May 1949 (WIA Korea – Battle of the Apple Orchard)(Awarded US Silver Star for gallantry; the third highest US Armed Forces military decoration for valour)
ADC to C-in-C BCOF 4 Dec 1950 to 9 Jun 1951
PA to Comd HQ 1 Commonwealth Div (UN Forces) (Aust Component) 10 Jun 1951 to 8 Jan 1952
2 RAR (Korea) 9 Jan 1952 to 7 Feb 1954

Capt

Maj 15 Dec 1958

Australian Regular Army:

Adjt 11/44 Inf Bn 8 Feb 1954 to 8 Jan 1956
Instr OCS 9 Jan 1956 to 3 Dec 1957
Att AAS (UK) (attended Staff College Camberley) 4 Dec 1957 to 27 Feb 1959 GSO2 (Trg & Int) AAS (UK) 28 Feb 1959 to21 Mar 1960
Pacific Island Regiment (PIR) 22 Mar 1960 to 29 Mar 1963

T/Lt Col 17 May 1965

Lt Col

Col

Brig

Maj Gen

DAAG HQ W Comd 30 Mar to 16 May 1965
D Recruiting AHQ 17 May 1965
CO 6 RAR 1969 to 1970
Comdt OCS 1972 to 75
COMD 1 Task Force 1977 to 1978
USA & Canada and Defence Attaché, United Nations 1979-1981
GOC Training Command 1982-1983
KOREA 22 OCT 1950 – BATTLE OF YONGJU – AKA "APPLE ORCHARD"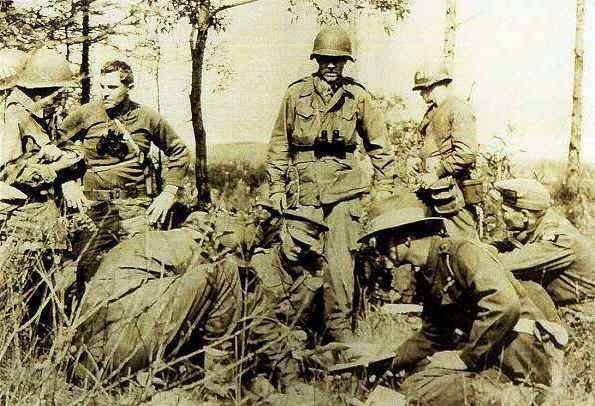 BATTLE OF THE APPLE ORCHARD – KOREA OCT 1950
Brigadier Coad (front-left and partly obscured), Commander 27th British Commonwealth Brigade, discusses the battle with the Commanding Officer 3 RAR, Lieutenant Colonel Charles Green (front-right in slouch hat). Lieutenant David Butler, Platoon Commander 9 Platoon, C Company, 3 RAR received the United States Silver Star for Gallantry for his part in the successful outcome of this the first Australian Army (and 3 RAR) Ground Battle in Korea. Lt Butler later served with 2 RAR in Korea and took part in the final Australian ground battle in the Battle of the Hook in late July 1953 as a Captain. As such he holds a unique piece of Australian Army military history by being involved in both the first and last Australian ground action of the Korean War. In the Vietnam War, Lt Col Butler commanded 6 RAR in its second tour of SVN. For this service he was awarded the Distinguished Service Order (DSO) for outstanding leadership. He eventually rose to the rank of Major General being awarded an Officer of the Order of Australia (AO) for his service as General Officer Commanding Training Command before retiring from the Australian Army. For those cadets who were fortunate to have him as an Instructor at OCS, Portsea between Jan 56 and Dec 57 or who were to serve under him during his subsequent military career can consider themselves lucky to have had such a fine mentor.
David Butler passed away on 24th November 2020. A copy of his eulogy is provided here.