The graduating class of June 1970.
To see the photos from this class, follow this link. NOTE: This link will take you to the class Facebook page where you will be able to see class photos without having a Facebook account. Just click on the Album of your choice or scroll down the photos. If you click on a single photo it will open a viewing window allowing you to scroll through the photos.
For news and other important information for this class, follow this link.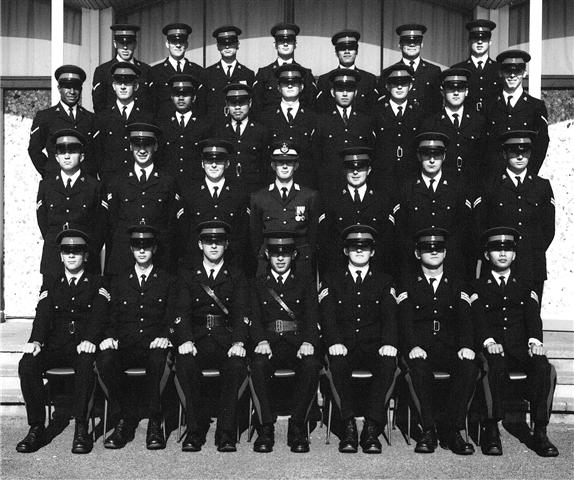 A Company
G.M. Platt M.G. Stark L.J. Hiddens P.W. Bedlington J.C. Kasman W.T. South G.W. Blackburn

T. Niaga S.G. Pratt M. Kiso  Ibrahim bin Haji Kosim P.J. Rule Francisco C. Runas Jr R.A. Rasmussen J. Zacny A.H. Longhurst

G.P. Rigby P.M. Bion J.D.J. Healy J.G. Clarke B.C. McDonald  R.H. Smith D.M.G Thomas

J.D. Wynen P. Schwerdt W.H. Remin L. Comer K.J.Swanson J.F. Hickey Nguyen Dinh Tri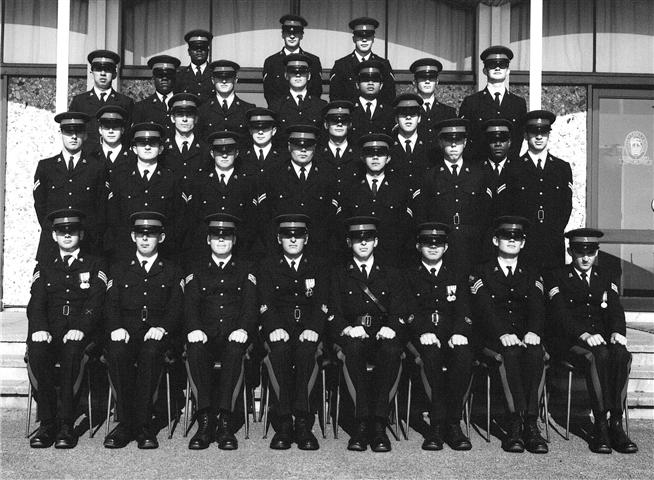 B Company
M.R Tarupiu G.J. Butler R.A. Dickinson

Abdul Aziz bin Abdullah N. Noke J.L. Nelson G.A. Johnstone  Kamaldin bin Abu Bakar K.W. Pippard R.I.A. Scott

C.A. Youll A.J. Little K.D. Watson R.L. White D.J. Wood P. Soma

J.I. Yates W.S. Nagy D.J. McDonald S.R. Bulger A.U. Boquiren P. Morgan P.J. Davidson

D.C. Smith P.M. O'Brien S.G. Stubbs P. Priede J.S. Heard R.J. Seymour B.A. Fawell A.P. Ryan

Absent: RS. Walden P.N. Van Draanen G. Freischmidt Karim bin Sapar
| Surname | Given Name/s | Corps | Contact Details Known |
| --- | --- | --- | --- |
| Abdul Aziz bin Abdullah | | RBLF | |
| Bedlington | Phillip William | RAE | Y |
| Bion | Peter Maurice | RA Svy | |
| Blackburn | Grant William | RNZAOC, RAAOC | Y |
| Boquiren | Alberto Udo | AFP Inf | Y |
| Bulger | Stephen Robert | RAASC, RACT | Y |
| Butler | Gregory John | RAASC, RACT | Y |
| Clark | James Grant | RAAF, RA Inf, AALC | Deceased |
| Comer | Leith | RNZIR | Y |
| Davidson | Peter James | RA Inf | |
| Dickinson | Ross Alfred | RNZ Sigs | |
| Fawell | Brian Anthony | RA Inf | |
| Freischmidt | George | AA Avn | Y |
| Healy | John Damien Joseph | AA Avn | Y |
| Heard | James Sydney | RNZA | Deceased |
| Hickey | John Francis | RAA | Y |
| Hiddins | Leslie James | RA Inf, AA Avn | |
| Ibrahim bin Hj Kosim | | RMR | |
| Johnstone | Gordon Alexander | RAE | Y |
| Kamaldin bin Abu Bakar | | Engs | |
| Karim bin Sapar | | RBLF, RBAF | |
| Kassman | Joseph Charles | PIR | |
| Kiso | Maino | PIR | |
| Little | Alan John | RAE | |
| Longhurst | Alick Hugh | Aust Int | Deceased |
| McDonald | Barry Checklin | RAE | |
| McDonald | Desmond John | RAE, RACT | Y |
| Morgan | Peter | RAAOC | |
| Nagy | William Stephen | RAAOC | Y |
| Nelson | John Lewis | RAAOC | Deceased |
| Nguyen Dinh Tri | | ARVN | Y |
| Niaga | Thomas | PIR | |
| Noke | Nicholas | PIR | |
| O'Brien | Peter Martin | RNZAOC | Y |
| Pippard | Kevin William | RAE | Deceased |
| Platt | Gregory Marcus, | RAASC, RAAOC | Deceased |
| Pratt | Stephen George | RA Inf | Y |
| Priede | Peter | RAAC | Deceased |
| Rasmussen | Raymund Anthony | RA Sigs | Deceased |
| Remin | Werner Horst | RAEME | Deceased |
| Rigby | Geoffrey Peter | RAAOC | |
| Rule | Philip John | RAAOC | |
| Runas Jr | Francisco Crispino | AFP Inf | Y |
| Ryan | Adrian Phillip | RAASC, RACT | Deceased |
| Schwerdt | Paul | RA Sigs, RA Inf | Y |
| Scott | Ronald Ian Adams | RA Inf | Y |
| Seymour | Raymond James | RNZIR | Y |
| Smith | Robert Harding | RAASC, RACT | Deceased |
| Smith * | David Christopher | RAA | Y |
| Soma | Paul | PIR | |
| South | William Thomas | RA Inf | Deceased |
| Stark | Michael Gerald | RAEME | |
| Stubbs | Stuart Gavin | RNZASC, RNZCT | Deceased |
| Swanson * | Kenneth John | RA Inf, RAAC | Y |
| Tarupiu | Marius Raphael | PIR | |
| Thomas | Denis Michael Gaynor | RNZIR | Deceased |
| Van Draanen | Paul Nicholaas | RNZASC, RACT | Y |
| Walden | Ross Stephen | RA Inf | Y |
| Watson | Kevin Douglas | RAAOC | Y |
| White | Ross Leslie | RAAC | Deceased |
| Wood | Dennis John | RAA | Y |
| Wynen | Johannes Bernard | RAA | Y |
| Yates | James Ian | RA Sigs | |
| Youll | Craig Angus | RA Inf | Y |
| Zacny | Jurgen | RAEME | Deceased |
Note:
'Y' indicates contact details known
* indicates Class Orderly ( A progressive class – they have two)