Australian Army Training Team Vietnam (AATTV) – 7th April 1967 – South Vietnam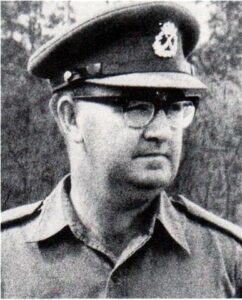 Peter John Badcoe, VC (11 January 1934 – 7 April 1967) was an Australian recipient of the Victoria Cross, the highest award for gallantry in battle that could be awarded at that time to a member of the Australian armed forces. Badcoe, born Peter Badcock, joined the Australian Army in 1950 and graduated from the Officer Cadet School, Portsea, in 1952 as a second lieutenant in the Royal Australian Artillery. A series of regimental postings followed, including a tour in the Federation of Malaya in 1962, during which he spent a week in South Vietnam observing the fighting. During the previous year, Badcock had changed his surname to Badcoe. After another regimental posting, he transferred to the Royal Australian Infantry Corps, and was promoted to major.
In August 1966, Badcoe arrived in South Vietnam as a member of the Australian Army Training Team Vietnam. He was initially a sub-sector adviser, but in December became the operations adviser for Thừa Thiên-Huế Province. In this role, between February and April 1967, he displayed conspicuous gallantry and leadership on three occasions while on operations with South Vietnamese Regional Force units. In the final battle, he was killed by a burst of machine-gun fire. He was highly respected by both his South Vietnamese and United States allies, and was posthumously awarded the Victoria Cross for his actions. He was also awarded the United States Silver Star and several South Vietnamese medals. He was buried at Terendak Garrison Cemetery in Malaysia.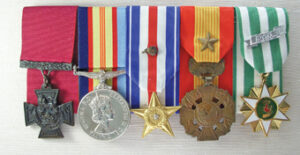 Citation for the Victoria Cross
On 23 February, in Phu Thu District, Major Badcoe with complete disregard for his own safety moved alone across 600 metres of fire swept ground and reached a United States Medical Adviser wounded by enemy fire, attended to him and ensured his future safety. He then organised a force of one platoon and led them towards the enemy post. His personal leadership, words of encouragement, and actions in the face of hostile enemy fire, forced the platoon to successfully assault the enemy position and capture it.
On 7th March 1967, in Quang Dien District, Major Badcoe led a company in an attack over open terrain to assault and capture a heavily defended enemy position. In the face of certain death and heavy losses his personal courage and leadership turned certain defeat into victory and prevented the enemy from capturing District Headquarters.
On 7th April 1967, in Huong Tra District, Major Badcoe was with a South Vietnamese company which came under heavy small arms fire and withdrew to a cemetery for cover. This left Major Badcoe and his radio operator about 50 metres in front of the leading elements, under heavy mortar fire. Seeing this withdrawal, Major Badcoe ran back to them, moved amongst them and by encouragement and example got them moving forward again. He then set out in front of the company to lead them on and when getting up to throw a grenade he was hit and killed by a burst of machine gun fire.
Major Badcoe's conspicuous gallantry and leadership on all these occasions was an inspiration to all, each action, ultimately, was successful, due entirely to his efforts, the final one ending in his death. His valour and leadership were in the best traditions of the military profession and the Australian Regular Army.
A Timeline
1934:    Badcoe was born Peter John Badcock on 11 January 1934 in the Adelaide suburb of Malvern, South Australia.
1950:    Despite his father's opposition, Badcock held ambitions to join the Australian Army; and enlisted in the Regular Army on 10 June 1950.
1952:    Graduated from the Officer Cadet School.
1961:     Posted to Malaysia for operations during the Malaysian Emergency.
1966:    In August 1966, Badcoe arrived in South Vietnam as a member of the Australian Army Training Team Vietnam.
1966:    In December 1966, Badcoe became the sector operations adviser at the provincial headquarters in Huế.
1967:    Peter Badcoe was killed in action and later awarded Victoria Cross posthumously.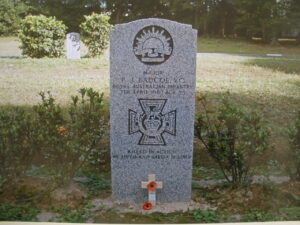 Further information is available from: