161 (Independent) Reconnaissance Flight – South Vietnam – 3 December 1969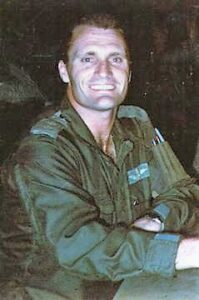 Barry Donald had enlisted in the Army in 1958. He completed service in Malaya.
Donald was selected to attend the Officer Cadet School and graduated in June 1961. Post graduation, he qualified as a pilot and flying instructor before being posted to South Vietnam in 1968.
He was killed when he was shot down by the enemy during a training flight in Phuoc Tuy at 10.30pm 3rd December 1969. (Posthumously Awarded the Distinguished Service Medal (DSM))
Citation
Captain Barry Creig Donald enlisted in the Australian Regular Army on 13th February 1958. After service in Malaya he was commissioned on 6th June 1961 and subsequently qualified as an Army Pilot and flying instructor. He arrived in South Vietnam on 27th August 1968.
As the Fixed Wing Section Commander and flying instructor he has operated under arduous operational flying conditions. He has continually sought to improve the flying standards of his pilots and has wisely guided new and inexperienced rotary and fixed wing pilots in their operational tasks. Captain Donald has developed and taught operational procedures that have greatly improved the support provided by his unit to the 1st Australian Task Force.
On the 26th October 1969 Captain Donald accurately adjusted artillery fire on to an occupied enemy bunker system. To ascertain the effectiveness of the fire he then flew his aircraft low over the target for a considerable period of time. On finding further enemy in the camp he maintained close surveillance, exposing himself to fire until such time as he could direct Vietnamese troops onto the objective.
Captain Donald has regularly flown all types of missions in fixed wing aircraft and acted as an observer in rotary wing aircraft on every possible occasion. He has demonstrated an outstanding ability as a reconnaissance pilot and as an artillery observer. In his determination to carry out these tasks he has repeatedly flown his aircraft low over occupied enemy installations with the result that his aircraft has been hit by ground fire on a number of occasions.
By his skill, leadership and disregard for his own personal safety when seeking out the enemy, Captain Donald has been an inspiration to the members of his unit.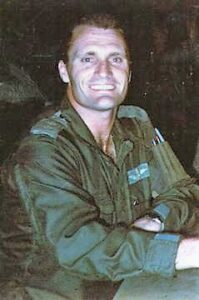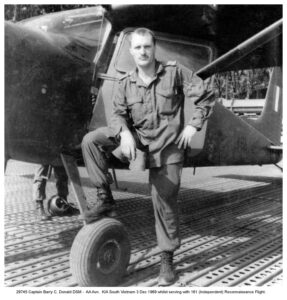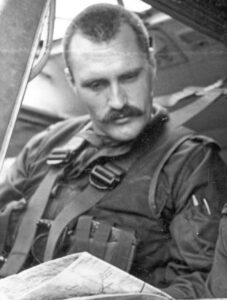 For more information see: