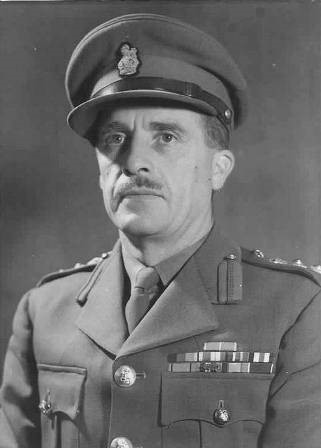 Sir James William Harrison (1912-1971), Army Officer and South Australian Governor, was born in Camperdown, Victoria, to parents James Samuel Harrison and his wife Mary Eleanor nee Harlock, on 25 May 1912. He was educated as a boarder at Geelong College for a brief period in 1928. He later attended the Royal Military College, Duntroon, graduating in 1932 as an artillery specialist. After spending four years in Melbourne with the 2nd Heavy Brigade, he trained in India and Malaya in 1937-1938. On his return to Australia he was promoted in May 1940 to captain and seconded to the Australian Imperial Force. On 30th September 1940 he married his future life-long partner Patricia Lennox.
In 1940-1942 he served in the Middle East where he performed as a staff officer. For this he was mentioned in dispatches. A posting to Headquarters, New Guinea Force, from November 1942 to February 1943 followed in the rank of Lieutenant Colonel. In this appointment he 'displayed marked ability'.
From early 1943 to 1945 he was attached to the Australian Army Staff in London before being posted to the Directorate of Military Operations, Melbourne, where he handled problems associated with the conclusion of the war and the occupation of Japan. From July 1947 he acted as Liaison Officer, Long Range Weapons Board of Administration, in Melbourne. Having attended Staff College in England in 1948, he became an instructor at the Australian Staff College, Queenscliff, Victoria. In 1951 he was promoted temporary colonel and appointed first Commandant of the Officer Cadet School at Portsea.
In this appointment Colonel Harrison and his staff undertook the many problems associated with setting up a new officer training establishment not the least being the uncertain tenure of the Quarantine Station. He also had to carve out training areas for a very concentrated six month officer producing course. Self-help and initiative became the order of the day. Buildings needed up-grading and cold showers were the norm for the early classes as was Saturday work parties to build or upgrade existing facilities. Budgetary restrictions limited what could be done in any new works programs. Notwithstanding all these problems the selected site for the School outweighed the limitations imposed in these early days and the end result produced a facility second to none. The important result, however, was measured in human terms of the school's graduates and the early benchmarks established by Colonel Harrison and his staff set the standard for all who followed in their footsteps. Military history now records OCS's success as an officer producing institution, not only for Australia but also for other countries in the region.
In 1954 Colonel Harrison was promoted to Brigadier and posted to London as the Australian Army Representative. He completed the 1956 course at the Imperial Defence College. In August he took over Western Command in Perth and was promoted to Major General.
In 1953 he was awarded his OBE and in 1958 this was upgraded to CBE. He held further appointments during his military service in Canberra including Chairman, Joint Planning Committee, Department of Defence. He was a member of the Military Board as the Quartermaster General (1962-63) and then as Adjutant General (1963-66). He then took over as the Commander of Eastern Command in Sydney from 1966. Major General Harrison was a very competent and popular officer.
In 1968 he was invited to become the first Australian-born Governor of South Australia. In January he was appointed CB and in October his KCMG. In October, he was seconded from military duties and installed as Governor of South Australia on 4 December 1968.
Major General Sir James Harrison passed away suddenly on 16 September 1971 while flying to Honolulu. He was survived by Lady Harrison and his two sons.
So ended the life of the Officer many consider was the 'Father of OCS, Portsea'.