Col H.G. Bates, OBE
Born: 16.02.1918
Died: 29.03.1998
RECORD OF SERVICE
Promotions:
14.12.1938 – Lt Aust Staff Corps
14.12.1946 – Capt Aust Staff Corps
30.01.1947 – Maj Aust Staff Corps
02.07.1949 – Lt Col Aust Staff Corps
1.11.1955 to 22.11.1956 – T/Col Aust Staff Corps
23.11.1956 – Col Aust Staff Corps
20.12.1967 – Brig Aust Staff Corps
RANK
REMARKS
Lt
Darwin Mobile Force Service (Nov 1938 – Aug 1940):

This Force was raised in response to growing concerns about the potential for war, which had resulted in the Australian Government seeking to increase the readiness of the military through the creation of a number of regular army mobile forces to defend strategic locations around the country.

While ostensibly the force was to bolster Darwin's strategic port, it also provided command and training opportunities for graduates of RMC as well as members of the Australian Instructional Corps.

Lt to Maj
Second Australian Imperial Force (2nd AIF) Service 13 Nov 1939 – 30 Jun 1947:

Lt 2/1 Aust Fd Regt 13 Nov 1939

T/Capt (28 Sep 1941 – 31 Aug 19 1942) in following appointments:

GSO3 HQ AIF (Middle East)
SO3 (Trg) HQ AIF (Middle East)
GSO3 (Staff Duties) Adv LHQ
GSO2 (Ops) Adv LHQ
LO (Maj) HQ NG Force
GSO2 (Liaison)HQ 1 Aust Corps (AIF)
Instr RMC & Staff School (SS) (Aust)
Instr Grade 2 Wing SS (Aust)

Lt to Maj
2nd AIF SERVICE Cont:

GSO2 (Co-ord) LHQ (SS) (Aust)GSO2 AHQ Trg Team
DAAG HQ N Comd
AAS UK 13 Mar 1947 to 30 Jun 1947

Maj to Lt Col
Interim Army Service 1 Jul 1947 to 14 Aug 1952:

AAS UK 1 Jul 1947 to 2 Mar 1949
GSO1 (DMT) Canada
AQMG HQ E Comd
AA & QMG HQ C Comd 12 Jun 1951 to 14 Aug 1952

Lt Col to Brig
Australian Regular Army Service from 15 Aug 1952:

AA & QMG HQ C Comd from 15 Aug 1952
D Qtg AHQ
DMA RMC (Duntroon)(Colonel)
Chief of Staff HQ 1 Div
Seconded to Dept of Defence (Service Attache Pakistan)
Comdt OCS 29 Dec 1964 to 19 Dec 1967
DQMG AHQ 20 Dec 1967 to 2 Jan 1969
Aust Army Rep & Mil Attache (Washington) 15 Jan 1969
Commandant Colonel H.G. Bates, OBE initiated the building of the Memorial Wall.
The dedication was one of his final functions as Commandant before the Dec 1967 Graduation Parade.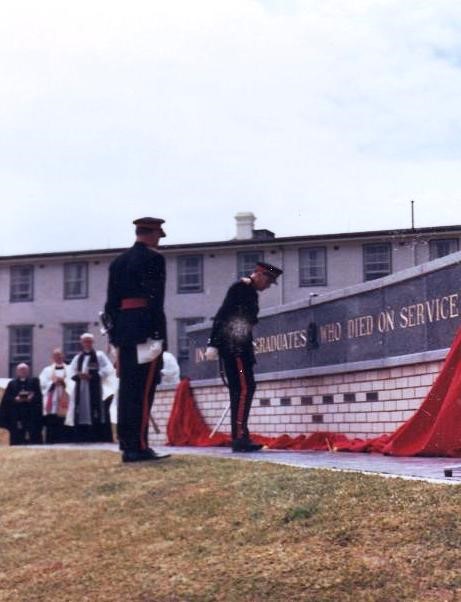 DEDICATION OF OCS MEMORIAL WALL – SUN 3 DEC 1967