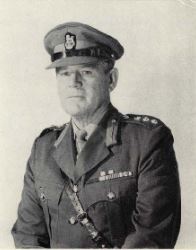 Colonel Brian Florence, AM, MC was born in Shepparton, Victoria in 1929 and was educated at St Brendan's Primary School and the Sacred Heart College in this regional city. On completing his secondary education he then did further secondary studies in Melbourne before embarking on a two-year working tour of Outback Australia before its character changed forever.
On return he joined the Victorian State Rivers and Water Supply Commission in its Field Survey Section of the Survey Department. He remained with this Department for four and a half years in field survey work mainly in northern Victoria and on the Eildon Weir Project.
He attended the second course held at the Officer Cadet School, Portsea in 1952 graduating into the Royal Australian Engineers. After serving in various training units, he then commanded the 1st Australian Bomb Disposal Troop for two years from 1954 in the Pacific Zone with its Operational Headquarters located in Rebaul and its Administrative Headquarters in Port Moresby.
On return to Australia he was posted as Adjutant/Quartermaster of the 13th Field Squadron, Royal Australian Engineers, (CMF), and then was attached as a Staff Officer to the British General Headquarters, Far East Land Forces (FARELF), Singapore during the Malayan Emergency. On returning to Australia he took up an appointment for two years as Second-in-Command 7th Field Squadron, Royal Australian Engineers before a posting to Central Command as Staff Officer to the then Commander of South Australia. He attended the Australian Staff College in 1965.
In 1966 Colonel Florence commanded 7th Field Squadron, Royal Australian Engineers in Australia after which he was appointed as Officer Commanding 1st Field Squadron Group, Royal Australian Engineers, in Vietnam during 1966-67. He was awarded a Military Cross for this active service.
Following his Vietnam tour, Colonel Florence served as an Instructor at the Jungle Training Centre, Canungra and then as a Senior Staff Officer with the New Zealand General Staff. In 1972 he was appointed Commanding Officer of the 1st Field Engineer Regiment at Holsworthy, NSW followed by a posting as Commanding Officer and Chief Instructor of the School of Military Engineering at Casula on the outskirts of Sydney. Subsequently he was posted to Queensland as Commander Divisional Engineers at Headquarters First Division.
He was promoted to the rank of Colonel and appointed Commandant of the Officer Cadet School, Portsea, Victoria in January 1978. On assuming this appointment, he became the first Portsea Officer Cadet School Graduate to return to the School as Commandant.
In 1981 he was granted the award as a Member of the Order of Australia (AM).
Also in 1981 Colonel Florence was posted to London as the Australian Member of the United Kingdom Ordnance Board on the creation of this position. He served on this Board, including covering the war in the Falklands, until returning to Australia in 1983 to Army Headquarters in Canberra. He resigned his Commission the same year.
Following his resignation he returned to his farming interests some kilometres south of Bendigo. Several years later he moved closer to the outskirts of Bendigo to the east of the city towards Lake Eppalock where he now resides.
While in retirement he was a Consultant to the United Nations for some years on mine clearance operations and in 1992 led an  investigating team in Afghanistan to report on the then current mine situation.
In 2013 he is still an active member of the Bendigo Legacy Club and served as the Victorian State Representative on the Co-ordinating Council of Australia.
Although now legally blind and a widower Brian has completed the unit history of the 1st Field Squadron Group, Royal Australian Engineers during its deployment to South Vietnam from 1965 to 1972. The publication launch took place in August of 2013 at the Shrine of Remembrance in Melbourne.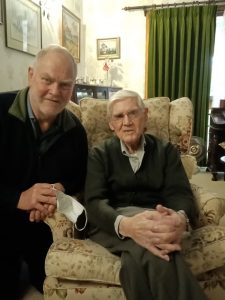 Brian Florence with Denis Ausling (June 1972) during a visit in June 2022.